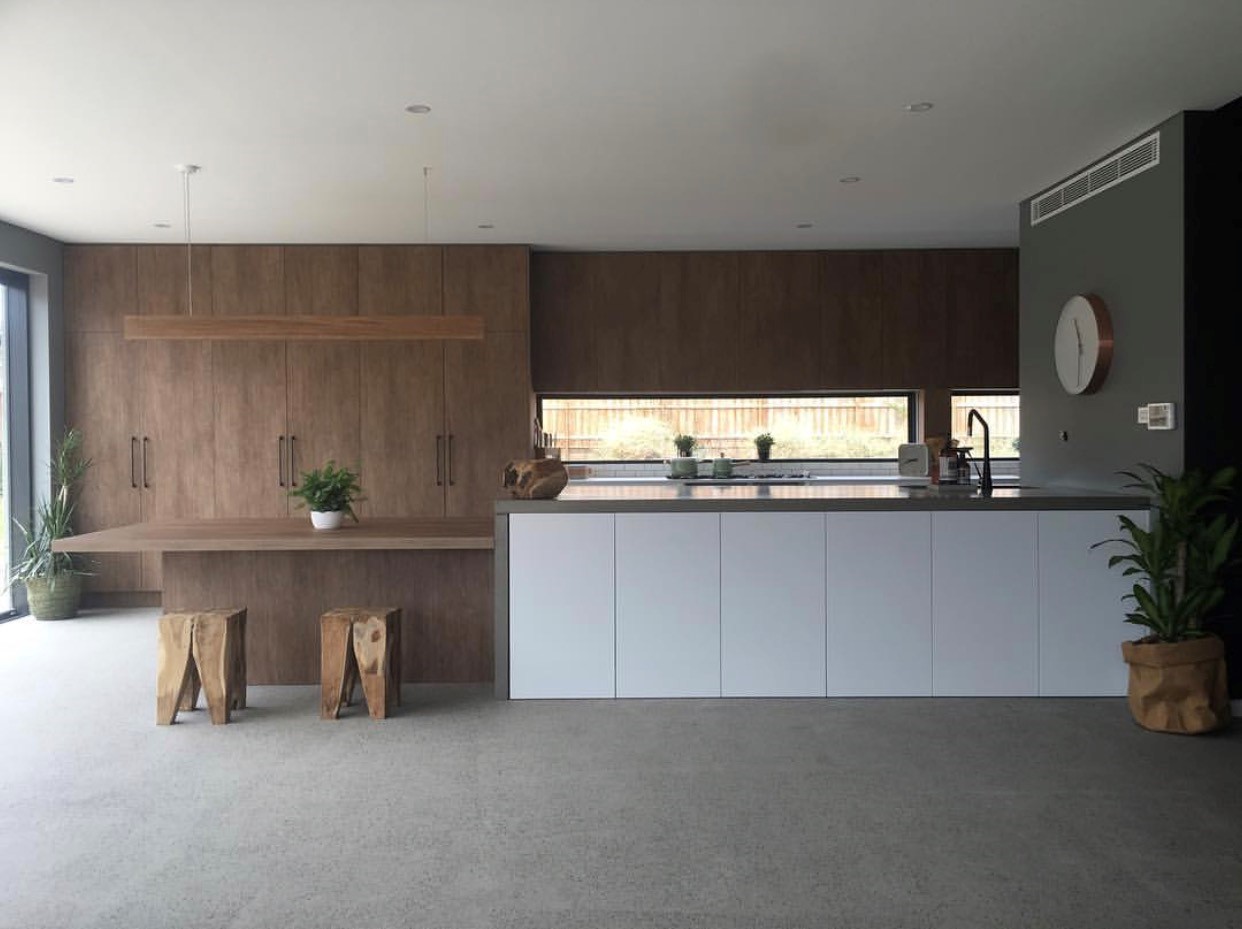 Azure Interior's Inspiring Home
We recently had the pleasure of meeting Antonia Christou of Azure Interiors when she specified a Concreate design for her new home... A huge concrete benchtop in 'Raw' with partially exposed white aggregate and waterfall edge.
With such a passion for interiors and a style which we adore, we were delighted to interview Antonia and share with you her love of mid century modern architecture.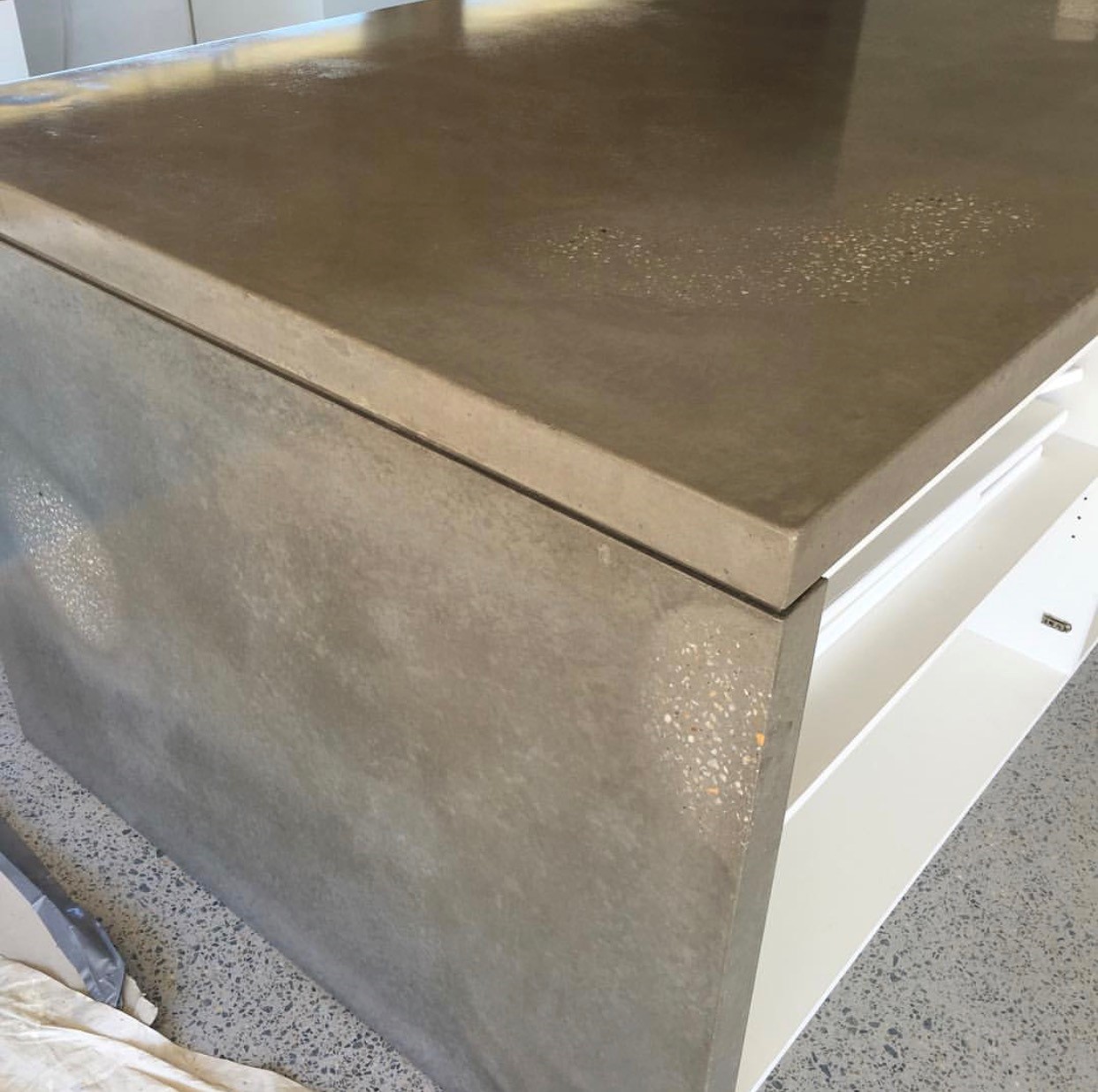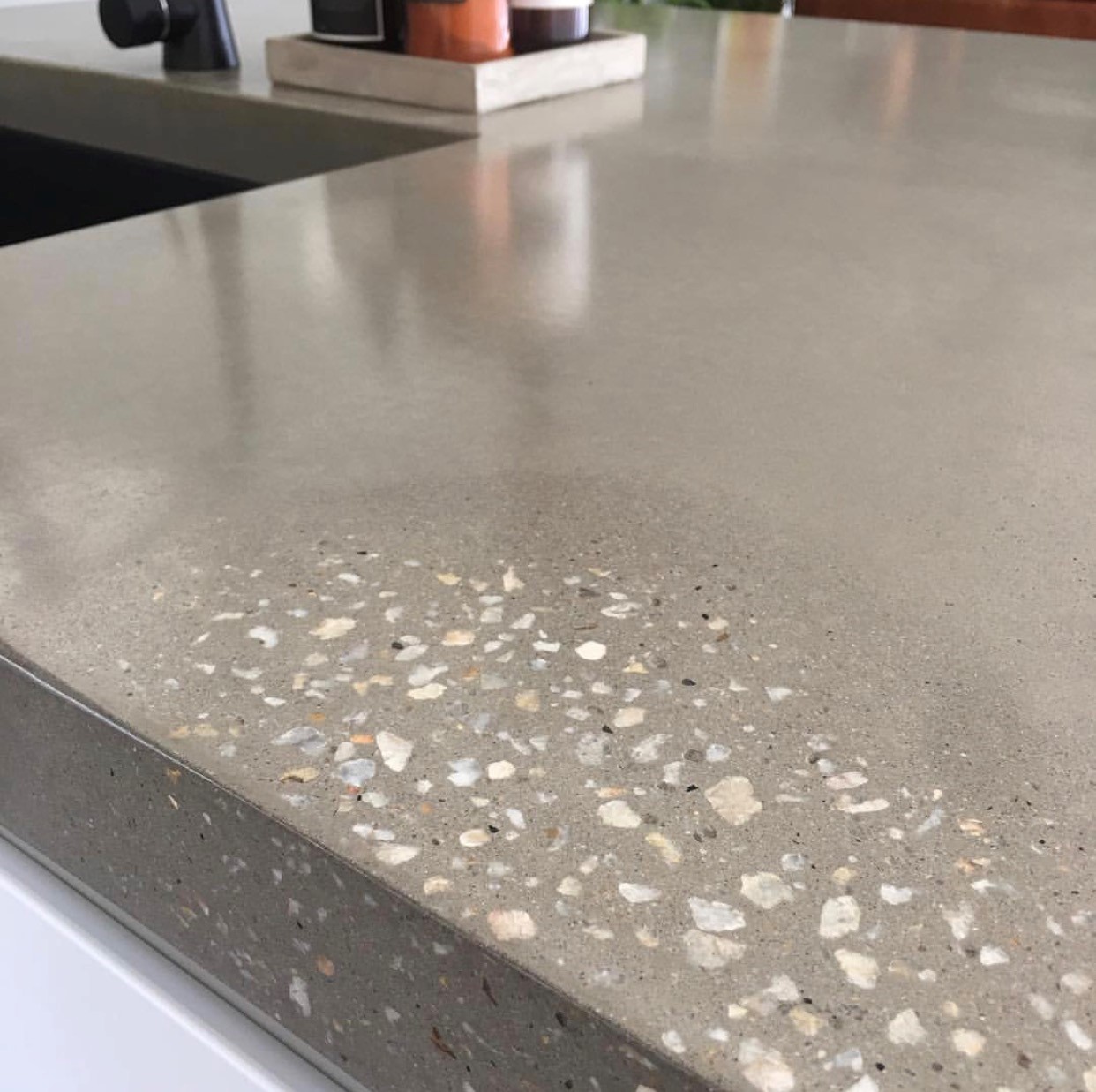 How long have you been a designer and run Azure Interiors?
I've been a freelance designer for 2 years now.
Please tell us how your amazing home renovation came about. Was it years in the making?
We started the process of building our new home back in January 2015. I sat down with our architect and together we designed our beautiful home. I've always loved mid century designs and the Rose Seidler house was my inspiration... Flat roof, square lines, timber cladding and concrete were a must in the design.
I have always wanted polished concrete floors and I finally got them and I must admit they are exactly how I envisioned them. Internally we chose to have recycled exposed bricks, recycled timber stairs treads, concrete floors combined with retro inspired furnishings. It really is our dream home and the comments we receive from family and random people just makes the whole process worth it.
Did it all run smoothly / what did you learn?
Nothing ever runs smoothly and let me tell you there were many tears along the way! We've just learnt to deal with things as they come and have tried to remain positive during the build.
Describe the area in which you live – what makes it home?
Stonecutters Ridge Estate in Colebee is located North West of Sydney. We are surrounded by four parks and an 18 hole Greg Norman designed championship golf course. The views are stunning and our house is located along the 9th hole. It is a beautiful estate, that provides a great lifestyle and family friendly environment.
Your style – how would you sum it up?
Mid century modern/ retro all the way. Literally obsessed with the architecture and furnishings in this era.
You chose our raw concrete benchtop with partially exposed aggregate – what was the thought process and research behind that?
I just love raw textures and this was a must in our home. Concrete brings so much character to the home and since the kitchen is the heart of the home I wanted to showcase the concrete here.
Is the concrete what you expected and how does it look 6 months in?
It is above and beyond how I expected it. It is definitely worth the investment. We absolutely love it and it still looks shiny and new 7 months later.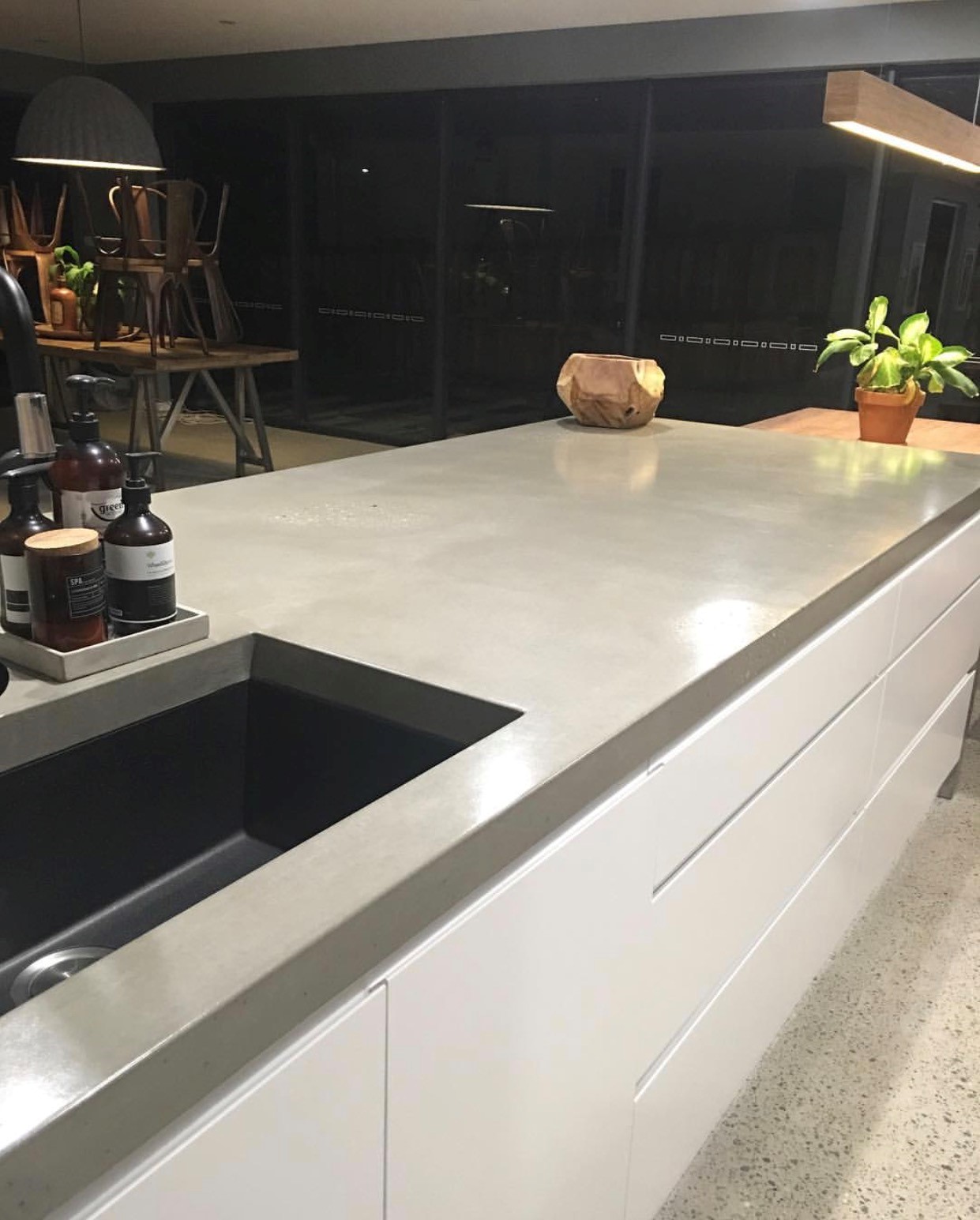 The favourite part of your house is…
Well I've got a few favourites! But my top 3 would be: my stunning cedar facade, concrete floors and of course my amazing 7 metre kitchen with my amazing concrete benchtop!
What's most exciting about the next thing you're working on?
I just finished designing a home in Bronte which was so exciting to be a part of and my next project will be on a retail store so I'll be redesigning the concept for that store!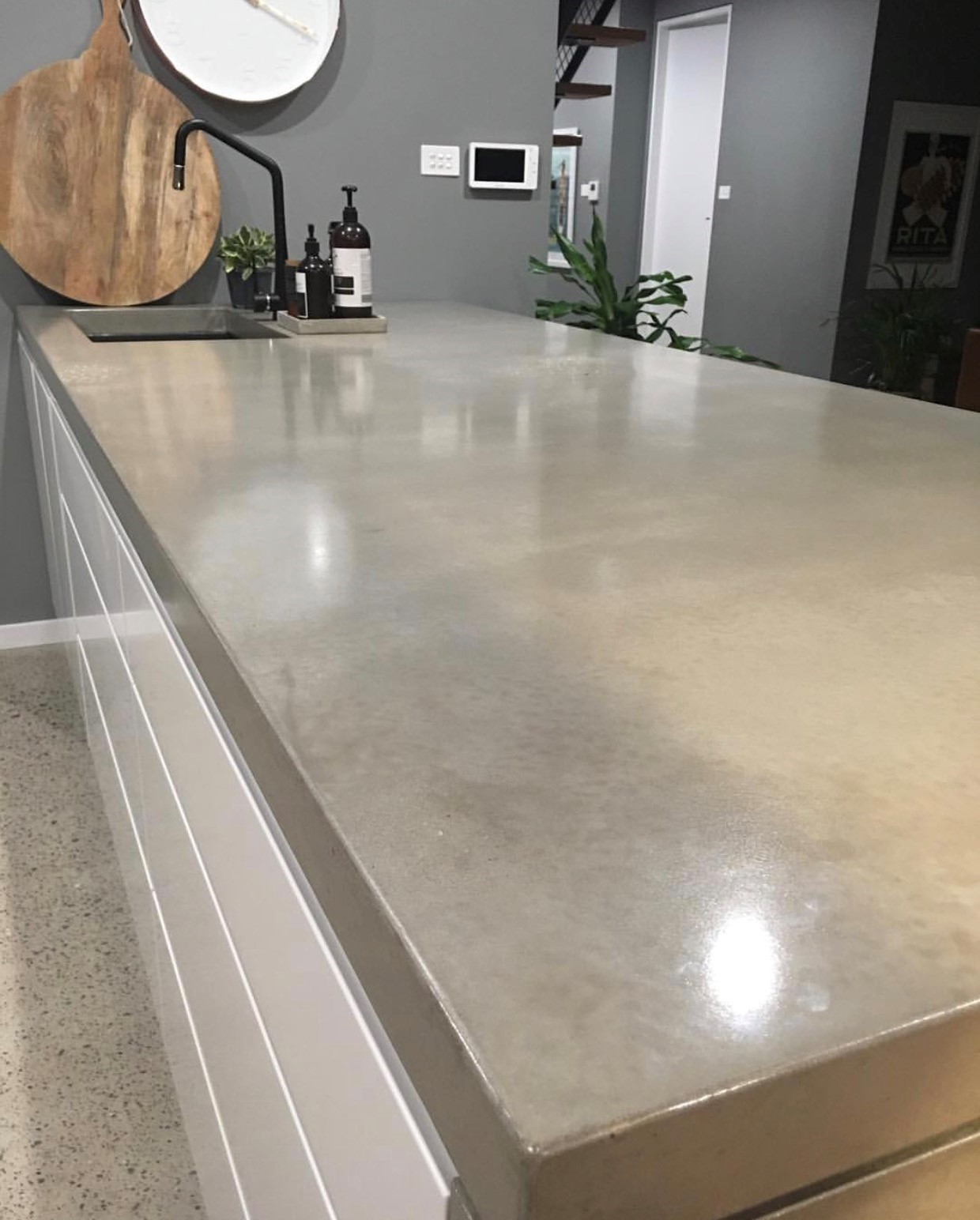 Your current designer crushes are…
I just love anything Muuto, and of course my favourite architect is Harry Seidler! Some design firms that I love are: Higher Ground by Design Office, Hate + Klein, Techne Architecture and Interior Design, Clare Cousins Architecture and Giant Designs to name a few.
If you were choosing another Concreate product for your home, what would it be?
I'd definitely want to have a concrete basin/sink for our powder room so that would be next on my list for sure!
---
Huge thanks to Antonia for her insight. For more of her amazing work follow @azure_interiors on Instagram or email [email protected]